7'' Look-C unit with an advanced feature set and sleek modern style. Base unit accepts two door cameras with view, talk and door-open control. Optional features include image capture memory and touch screen control. Up to five monitors can be integrated together for a house-wide system. The intercom feature allows for communication between additional monitors. Optional extras are available to suit a custom expanded installation requires connection cables (4-Wire). Flush or surface mount cameras should be installed in a covered area for weather-protection. Optional metal weather shield is available.
Key features
Low profile style 30mm deep
High resolution: 1440x234px
Silver fascia for decor wall mount 250x153mm
Multiple doors can be monitored (up to 4), each can have their own chime
Wide-screen TFT-LCD colour
Photo memory (takes up to 120 images)*
* It remembers who called while you were not home!
Price for Non Memory Kit - $420

Expanding The System.
Any combination of unites can be used in an installation, up to 5 Monitors and 4 Cameras (CSM switcher required).
For more information on Video Intercom, please contact us on (03) 9018 9196.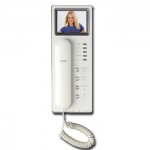 Key Features
Low-profile and narrow styled vertical unit
White fascia with attractive silver detailing
Base unit accepts one door camera with view, talk and door-open control
Extra cameras can be added
Intercom feature allows for communication with additional monitors in different rooms of your modern home of the future
Fully expandable and compatible with Look-C 4-wire door intercom system units & cameras
Extra Monitors
System is expandable to up to a total of five monitors
Additional monitors can be any from the Look-C range
Installation kit includes
Hardware
Base-station monitor
Choice of cameras: surface or flush mount camera
For more information on Audio Intercom, please contact us on (03) 9018 9196.