What is Home Automation?
Imagine, you are automatically drawing the blinds, dimming lighting, turning on your music or setting the temperature before arriving home, all from your touch screen, iPad, iPhone, any other smart phones or PC!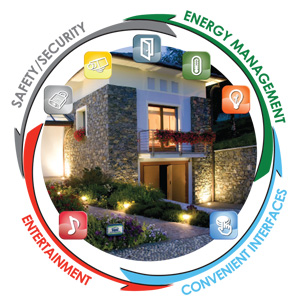 We offer all range of Home Automation including:
security & safety

lighting control (indoor/outdoor)

climate control

multi-room audio/video control

home networking

control audio video devices

home theater control

blinds, gates and drawnings control

and muuuuch more…
**The best time to do home automation is when your house is being built or renovated because it is cheaper and gives you more flexibility when selecting automation tasks.
What is iPad, iPhone, or iTouch Home Automation?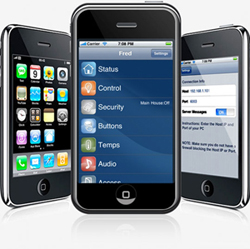 From now on, your iPhone is not just a smart phone but a powerful remote control that will allow you to control every electrical appliances/device your home over WIFI or anywhere else over 3G. Our home automation specialists have discovered that iPhone has fantastic capabilities to customise it for most of your existing home systems (eg. security, access control, audio and video). We will be able to turn your iPhone into powerful remote that will control your home environment.
How do we work?
We make an appointment to discuss all your needs and desires
Then we design the system and draw up the plans that will meet all your requirments
Afterwards, we will do our best to make sure that your 'dream' home becomes a reality
Our team comprises professional installers and designers who draw on a great depth of understanding and experience in all major home automation tasks. Therefore, we are happy to design any home automation system to suit your lifestyle and budget, whether it will be a simple system that controls lighting, or the most advanced automation of security, access control, heating and audio/video components.
What do we offer?
HAI Home Automation products
Our company is an official dealer of Home Automation Inc. (HAI), the largest selling manufacturer of home controls products for homeowners and businesses around the world since 1985.
As experts we are proud to offer HAI products to our clients due to their great functionality and flexible price. For us it is important not only to meet all customers' expectations by providing the latest home automation products, but also to offer a fair and reasonable price.

Download all product range
BitWise Control
We use a BitWise Control simple due to the greatest flexibility and functionality of this powerful system. Imagine a total customisable remote and automation solution where all of your home and boardroom entertainment technology can be easily controlled from your iPad or iPhone.
Home Automation – Security & Safety
Just imagine, you are going on holidays but like, you are worried about the security of your home while you're away. The simplest way to piece of mind is Home Automation. You will be able to control all home automation systems via the Internet, iPhone, iPhad, iTouch or PDA (personal digital assistant) device from just about anywhere in the world.
Examples of home security automation
If you've forgotten to switch the lights off, at the touch of a button on your iPhone or any other smart phone, all lights will be switched off
If your home has been breached, smart security systems will ring and advise you, however you can also use your smart phone to access security cameras to see if it is a real break-in or it is false alarmh
A digital video recorder (DVR) lets you view surveillance on touchscreens, over the Internet, or on your smart phone live or later, at your convenience
You can check on the safety of the children, pets and elderly relatives from the office or overseas
You can keep an eye on the children when they are in the swimming pool
You can program the lights and television to make anyone watching the house think that someone is there
The above examples are just a small part of what home automation can do for your comfort and convenience.
We offer REAL Home Automation Experience in our showroom at 530 North Rd, Ormond.
For more information on home automation, please contact us on (03) 9018 9196.